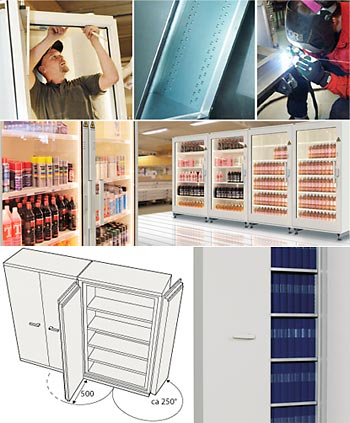 The company
Secura Sweden AB has extensive experience of developing, manufacturing and marketing fire-rated cabinets. The production of the products we have developed ourselves is in our modern factory in Bollnäs, Sweden, where we also operate some contract manufacturing and special production, e.g. pellet burners. Our manufacturing is split into two large product areas. Firstly, the SA series of fire-rated filing cabinets, for the safe storage of small quantities of documents and, secondly, our SGS series of fire-resistant display cabinets. The purpose of the fire-resistant display cabinets is to allow the maximum product presentation every day when there is no fire and, at the same time, to protect staff, customers and buildings the day fire does break out.
Our largest market is in Sweden, which accounts for approx. 70 % of our turnover, and the rest is divided between the other Nordic countries and some European ones. Primarily, France and the Netherlands, but also Austria, Switzerland and Germany.
Outside Sweden, our products are sold via various agents who, in some cases, sell the cabinets under our name or, alternatively as their own product under their own name. For our international contacts read more here…
In Sweden, our products are sold primarily via our dealers, such as office suppliers, post order, archiving companies, security companies and suchlike.  Examples of office suppliers are Kinnarps, Input, EFG, Edsbyn etc. In the archiving sector, there are, for example, Bruynzeel Storage Solutions and Skandex AB, both of which are experts in fire-rated storage. As examples of post order companies, we can mention Witre and Johnson & Co, Gigant (Tools) etc. Thus, our products are not only made locally in Sweden but can also be bought locally.
History
Secura was founded about 34 years ago (1988) by Roland Dahlstedt, who ran the business until 2013. After this, Rickard Dahlstedt (his son) took over the management of the business.
Right from the very start, we have developed our own products and solutions for fire-rated storage. The first series of fire-rated cabinets to enter into production was the BDD series, which consisted of 3 sizes of fire-rated document cabinet (120P) developed for placement directly adjoining the workplace, where they protect the documents in daily use. The BDD series, which in later years changed its name to the SD series, was manufactured all the way up to the end of June this year (2013), when it was replaced by new products. In 1990, we launched our fire-rated, series BDK, safes, which are based on the 3 different sizes in the BDD series but, apart from having fire-rating 120 P, also had burglary-resistance rating SS 3493, which was the correct test for a Safe. The name 'safe' is used today for most cabinets with thick walls, but the BDK series was one of the few cabinets that really was a safe. The manufacturing of the BDK series was discontinued in 2002, when the manufacturing was moved from Tierp to Ånge. Our BDA series of fire-rated filing cabinets or, as it is called today, the SA series entered into production and went on sale as far back as 1991 and still accounts for the largest sales today. The SA series has been regularly updated over the last 20 years, as new methods or technologies became available.
In 1998-99, we developed our first fire resistant display cabinet under the BDG series name. Today, the series is called the SGS series and comprises 4 different sizes suited to current shop standards and needs. The sales of our fire resistant display cabinets are on the up in both Sweden and outside the country, as a result of which we invested in 2010-11 in a major update of the series, with new door designs, lighting, door closer and suchlike. The aim was to place more focus on the way the products are presented from a sales perspective rather than just talking about the rating the cabinets should have to provide protection during a fire. Undeniably, fire will have broken out then, but there are still many more days when there is no fire. More and more customers are discovering the advantages of our fire resistant display cabinets, and can also witness that the sales of flammable products can increase while also safely protecting customers, staff and buildings.
Between 1989-2001, all of the production of our own products was at Samhall's factory in Tierp. In 2002, the manufacturing was moved to Ånge, where we cooperated with Elkapsling AB regarding staff and premises. At the time, we already owned some of the equipment needed for manufacturing our products, such as jigs, mixers and filling plant etc., which also made the decision to build our own complete factory, in 2006, much easier. We decided in 2006 to invest in our own complete production, to increase manufacturing volumes and also to create better conditions for developing new products. In the first quarter of 2007, our own factory was ready in Bollnäs, where we moved, in part because of the proximity of our suppliers. Today, the SA series, SGS series, the ST series and many accessories and fittings are made in Bollnäs.