Fire resistant document cabinets, SA series
If you want to protect documents against fire, our Swedish made SA series of fire-rated filing cabinets is the best solution. Above, you can find a summary describing the product in more detail, split into the area Design, Use and Security.
Every day when fire does not break out, the fire resistant document cabinets act as a secure, flexible and natural storage place for your work materials!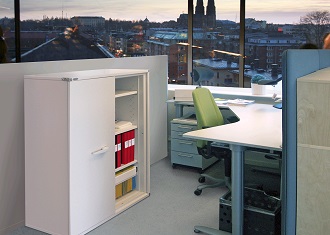 Because fire does not break out every day, we have placed our greatest attention on these aspects. What we mean by this is that the SA series has been developed to work as a natural storage place, like any bookshelf whatsoever. For this to be possible, we have both developed a fire insulation that makes the weight of the filing cabinets less and allows us to make them with thinner walls than was previously possible as well as a unique door design allowing full access to all materials with just 90° door opening, while the door can be rotated completely around its own axis to save space. The low weights, small external dimensions and the unique door design make the cabinets easier to place where they do the most good, at the workplace where the documents are used.
To make the use of the SA series as a daily storage place even easier for your workplace, we have also:
a neutral colour scheme (RAL 9002 is standard) on the entire cabinet, including the handles, giving the cabinet a neutral profile.
the option to have the cabinet painted in any RAL colour to further match your particular surroundings.
large range of

fittings

,

meaning you can always adapt the cabinet to your particular storage needs.
alternative lock systems. Key locks are the standard but there are various electronic locks available as accessories.
The day fire breaks out, our fire-rated filing cabinets protect all of your documents from destruction!

The SA series is tested and approved in accordance with NT Fire 017, fire-rating 60P, meaning that all documents in the cabinet are well protected in the event of a fire. An approval in 60 P, in accordance with NT Fire 017, means that the cabinet has passed an extreme test, where the cabinet is exposed to heat from all directions, in this case, for 60 minutes. The test is carried out by placing the cabinet in a test oven that is heated up to an extreme temperature of approx. 1000 degrees. The temperatures are measured at several points inside the cabinet and, during the test, must not rise by more than 150°.
Fire-rated filing cabinets do not need to be grey!
Thanks to our unique production technology, we can supply all of the cabinets we make in many different colours. Please contact us with your wishes.